I don't know a lot about men, aside from what I've learned from being married to one for the last 13 years. But, if you've found yourself in the company of a male significant other, you probably know as much as I do about getting a man in the mood for Business Time.  Which basically equates to a woman paying little to some attention to his package, and just like that, he's ready for action.
Women, however, are a little more complex when it comes to getting in the mood.
(If this information comes as a shock to you, you're probably single.)
More often than not, women need more than just a shoulder rub and a poke in the back to get in the mood for Business Time. If you did the dishes that night, you're on the right track, but why not amp things up a bit by putting on a steamy movie to help get her turned on?
This is a really simple way to romance your lady. And, I'm not judging you for going the easy, lazy route. In fact, I congratulate you for thinking ahead.
Now, what movies will help get your woman in the mood? What can you put in the Blu-ray player while turning down the lights and handing her a glass of pino, that will get the warm fuzzies fluttering in her belly?
Please note: This time I'm not talking about the X-rated stuff, because you can get that for free on the internet. I'm talking about the movies that make her melt into your arms like buttah.
Say Anything

Almost any movie with John Cusack will make your woman's heart skip, especially if she's over 30. But Say Anything is the movie that reminds girls that there are men out there who will do whatever it takes to get the woman of his dreams. WE LOVE LLOYD DOBLER!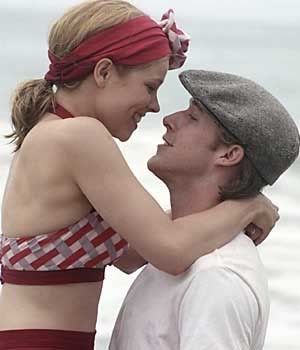 The Twilight Saga

Say what you will, if your woman is a Twi-hard, she will melt for Edward or Jacob for a solid 2 hours, then she'll melt for you when the movie ends. You'll be her hero for the night and probably the day after.
The Notebook

WARNING: This movie will either leave your woman exhausted from bawling her eyes out or make her want to leave you for a better man. I've not personally seen the movie for those exact reasons, so do your homework before putting on this movie, and proceed at your own risk.
Brokeback Mountain

Now, you might be thinking to yourself, "What in the … are you insane?" STAY WITH ME HERE. If your woman is a progressive sort of gal who has a soft spot for her gays, she'll triple love that you want to watch this Academy Award-winning love story with her, without trepidation. Just make extra sure you don't make comments about "not wanting to see two dudes making out" while you're watching. It will spoil the whole mood you've worked so hard to set.
Unfaithful
You may think that it's counterproductive to watch a movie about being unfaithful, but hot damn, the sex scenes in this movie are beyond hot. They might even get your gal hungry for Diane Lane, herself.
Interview with the Vampire

Way back before Twlight, True Blood, or Buffy (and before we knew Tom Cruise was crazy), this movie came onto the scene with hot vampire sex and pointy teeth. Remind your lady of what it feels like to be bitten by Vampire Brad Pitt (before he cheated on Jen with Angie).
Casablanca

If she's a classics kind of girl, she'll want to watch Casablanca again, no matter how many times she's seen it. Instant win for you.
Thomas Crown Affair

It's Pierce Brosnan back when he was extra super hot, saving the world, and having sex. DONE and DONE. *Thanks to CGG reader, @dadarocks , on twitter for this suggestion!
Secretary

Maggie Gyllenhaal crawling on her hands and knees dressed as a secretary? The ladies love her.
Original Sin

This is a two-for, guys! You get to watch Angelina Jolie and she gets to oogle Antonio Banderas. What it lacks in the quality department, it makes up for in the sexual tension department.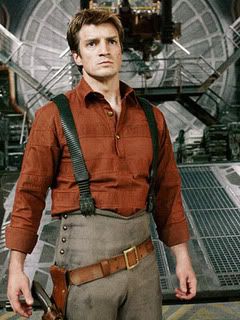 Serenity

This one's for the girls who love the Sci-Fi category. Or the Nathan Fillion category. Or the Joss Whedon category. Basically, if your lady is a fan of Dr. Horrible, Firefly, Buffy the Vampire Slayer, or Dollhouse, get this one for your date night.
9 1/2 Weeks

I almost didn't put this movie on the list because it's my dad's get-in-the-mood movie, but I'm 35 and can deal with that now. Or not. Ahem, if your lady is into 80s movies where Kim Basinger gets naked and gets it on with Mickey Rourke before he ruined his face, put this movie on. *Thanks to CGG reader,  Hap Pygirl , on Facebook for this suggestion!
Any Movie That Stars A Guy On Her Laminated List 
You should know at least one or two of the men she has on her Laminated List. Pick any of those men, look them up on IMDB.com, and pick the movie you think shows the most of her man's skin. Instant turn on.
What movies get you in the mood for getting in on?

Angie Lynch is the founder and managing editor of the powerhouse women's literary community, Smut Book Club. She is a Native Floridian without a tan, probably because she spends her days hard at work on the magical internet. For the past several years, Angie has worked way too hard at building clout as an influencer in food and margaritas as well as being a source for laughable pop culture commentary. You can read more from Angie on her blog, A Whole Lot of Nothing.
image credits: 20th Century Fox, New Line Cinema, Warner, Universal Studios